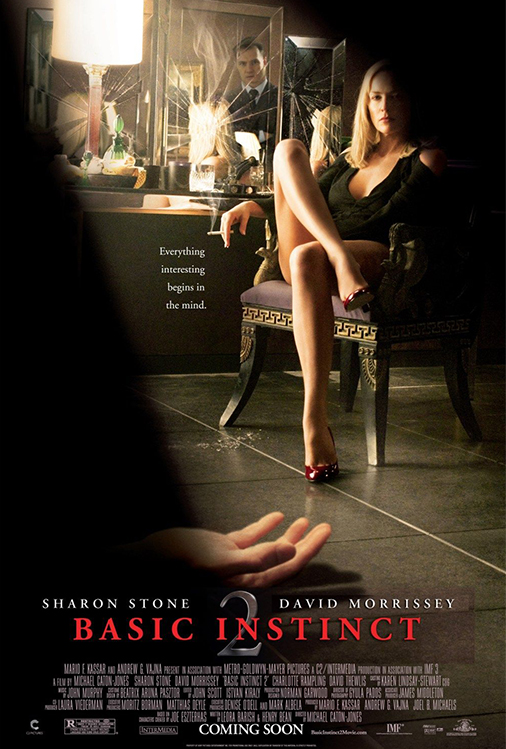 Production details
| | |
| --- | --- |
| Release date | 2006 |
| Director | Michael Caton-Jones |
| Genre | Crime, History, Mystery, Thriller |
| Box Office | $38,629,478 USD |
Credits
| | |
| --- | --- |
| Mario Kassar | producer (as Mario F. Kassar) |
| Mark Albela | executive producer |
| Moritz Borman | executive producer |
| Matthias Deyle | executive producer |
| Joel B. Michaels | producer |
| James Middleton | associate producer |
| Janine Modder | line producer |
| Aslan Nadery | producer: IMF |
| Denise O'Dell | executive producer |
| Volker Schauz | executive producer: IMF |
| Andrew G. Vajna | producer |
| Laura Viederman | co-producer |
Cast
| | |
| --- | --- |
| Stan Collymore | Kevin Franks |
| Sharon Stone | Catherine Tramell |
| Neil Maskell | Detective Ferguson |
| David Thewlis | Det. Roy Washburn |
| Jan Chappell | Solicitor |
| David Morrissey | Michael Glass |
| Terence Harvey | Henry Rose |
| Hugh Dancy | Adam Towers |
| Ellen Thomas | Prosecutor |
| Mark Sangster | Court Reporter One |
| Tim Berrington | Court Reporter Two |
| Indira Varma | Denise Glass |
| Charlotte Rampling | Milena Gardosh |
| Heathcote Williams | Jakob Gerst |
| Flora Montgomery | Michelle Broadwin |
Synopsis / summary
In London, while using drugs and having sex in a speeding car with a famous soccer player, the blond writer Catherine Tramell drives off the road, falls in the river and the athlete drowns.

Dr. Michael Glass is assigned for a forensic evaluation, and in spite of being against bail, Catherine is released. Later Catherine goes to Dr. Michael's office and initiates therapy with him, and he sees that she is an omnipotent manipulative woman.
However, as far as Dr. Michael knows her deeper and deeper, he becomes obsessed for her, while people of their relationship are killed.
Updates
2020-10-04 Basic Instinct 2 B roll (Cannes etc)