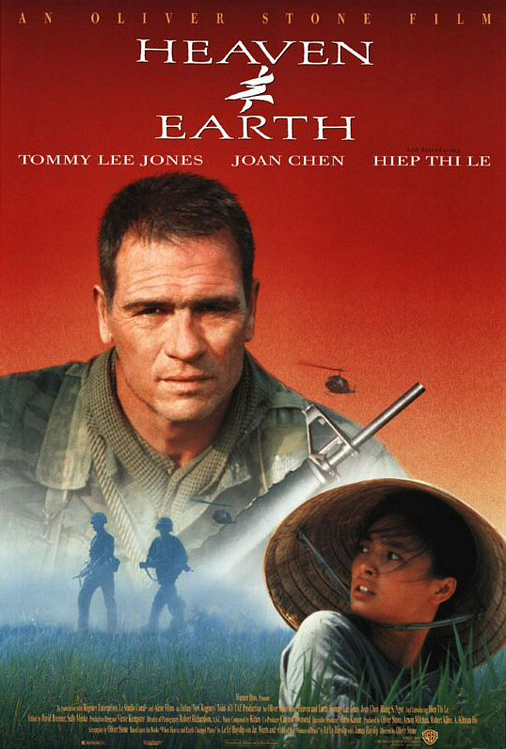 Production details
| | |
| --- | --- |
| Release date | 1993 |
| Director | Oliver Stone |
| Genre | Action, Biography, Drama, History, War |
| Box Office | $5,864,949 USD |
Credits
| | |
| --- | --- |
| Mario Kassar | executive producer |
| Risa Bramon Garcia | associate producer |
| A. Kitman Ho | producer |
| Robert Kline | producer |
| Arnon Milchan | producer |
| Christina Rodgers | associate producer |
| Richard Rutowski | associate producer |
| Oliver Stone | producer |
| Clayton Townsend | co-producer |
Cast
| | |
| --- | --- |
| Tommy Lee Jones | Steve Butler |
| Haing S. Ngor | Papa |
| Bussaro Sanruck | Le Ly - Age 5 |
| Supak Pititam | Buddhist Monk |
| Joan Chen | Mama |
| Thuan K. Nguyen | Uncle Luc |
| Hiep Thi Le | Le Ly |
| Lan Nguyen Calderon | Ba |
| Thuan Le | Kim |
| Dustin Nguyen | Sau |
| Mai Le Ho | Hai |
| Vinh Dang | Bon |
| Khiem Thai | Brother In Law |
| Liem Whatley | Viet Cong Captain |
| Michelle Vynh Le | Viet Cong Cadre Woman |
| Tuan Tran | Rapist |
Synopsis / summary
Fleeing the violence of the Viet Cong, Le Ly leaves her farming village with her mother for Saigon.

After disgracing herself by becoming pregnant with her new master's child, she moves in with her sister and, through hustling the American troops, meets up with Steve Butler.

They become lovers and, encouraged by his promises, she agrees to return with him to the strange but wonderful land of "America".
Updates
There are no updates available at this time, but please check back soon as content is continuously added to the website.
Follow online
Related news
Related press