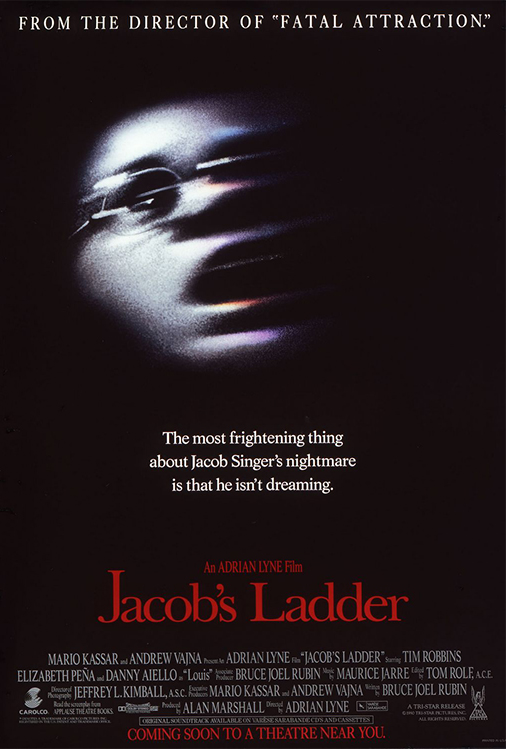 Production details
| | |
| --- | --- |
| Release date | 1990 |
| Director | Adrian Lyne |
| Genre | Drama, Horror, Mystery |
| Box Office | $26,118,851 USD |
Credits
| | |
| --- | --- |
| Mario Kassar | executive producer |
| Alan Marshall | producer |
| Bruce Joel Rubin | associate producer |
| Andrew G. Vajna | executive producer (as Andrew Vajna) |
Cast
| | |
| --- | --- |
| Tim Robbins | Jacob |
| Elizabeth Peña | Jezzie |
| Danny Aiello | Louis |
| Matt Craven | Michael |
| Pruitt Taylor Vince | Paul |
| Jason Alexander | Geary |
| Patricia Kalember | Sarah |
| Eriq La Salle | Frank |
| Ving Rhames | George |
| Brian Tarantina | Doug |
| Anthony Alessandro | Rod |
| Brent Hinkley | Jerry |
| S. Epatha Merkerson | Elsa |
| Suzanne Shepherd | Hospital Receptionist |
| Doug Barron | Group Leader |
Synopsis / summary
New York postal worker Jacob Singer is trying to keep his frayed life from unraveling. His days are increasingly being invaded by flashbacks to his first marriage, his now-dead son, and his tour of duty in Vietnam.

Athough his new wife tries to help Jacob keep his grip on sanity, the line between reality and delusion is steadily growing more and more uncertain.
Updates
There are no updates available at this time, but please check back soon as content is continuously added to the website.
Follow online
Related news
Related press