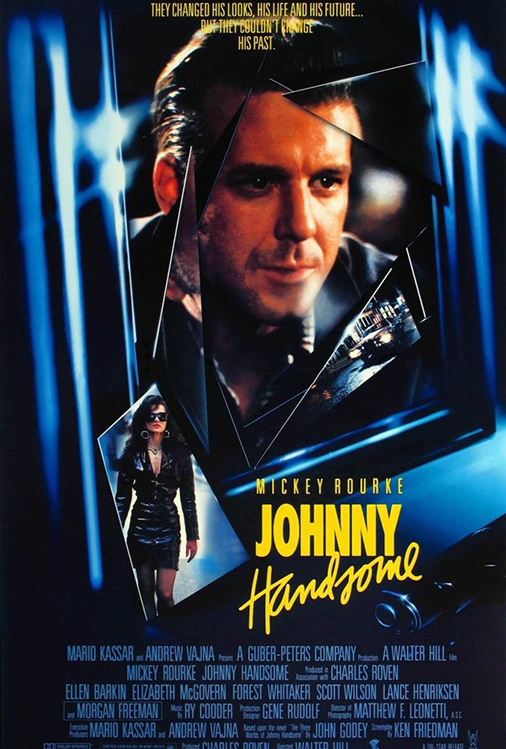 Production details
| | |
| --- | --- |
| Release date | 1989 |
| Director | Walter Hill |
| Genre | Drama, Crime, Thriller |
| Box Office | $7,237,720 USD |
Credits
| | |
| --- | --- |
| Mario Kassar | executive producer |
| Ted Kurdyla | associate producer |
| Charles Roven | producer |
| Andrew G. Vajna | executive producer (as Andrew Vajna) |
| Mae Woods | associate producer |
Cast
| | |
| --- | --- |
| Mickey Rourke | John 'Johnny Handsome' Sedley / Johnny Mitchell |
| Ellen Barkin | Sunny Boyd |
| Elizabeth McGovern | Donna McCarty |
| Morgan Freeman | Lt. A.Z. Drones |
| Forest Whitaker | Dr. Steven Fisher |
| Lance Henriksen | Rafe Garrett |
| Scott Wilson | Mikey Chalmette |
| David Schramm | Vic Dumask |
| Yvonne Bryceland | Sister Luke |
| Peter Jason | Mr. Bonet |
| J.W. Smith | Larry |
| Jeffrey Meek | Earl (as Jeff Meek) |
| Allan Graf | Bob Lemoyne |
| Ed Zang | Prestige Manager |
| John P. Fertitta | Prestige Salesman (as John Fertitta) |
Synopsis / summary
A career criminal who has been deformed since birth is given a new face by a kindly doctor and paroled from prison.

It appears that he has gone straight, but he is really planning his revenge on the man who killed his father-figure and sent him to prison.
Updates
There are no updates available at this time, but please check back soon as content is continuously added to the website.
Follow online
Related news
Related press