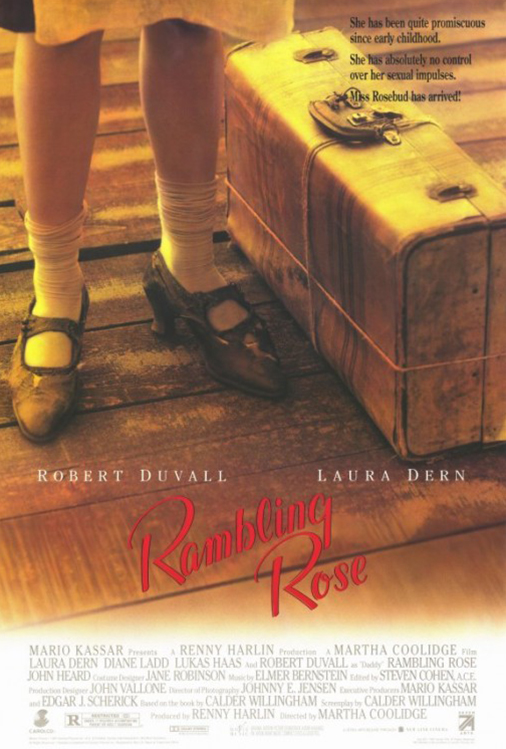 Production details
| | |
| --- | --- |
| Release date | 1991 |
| Director | Martha Coolidge |
| Genre | Drama |
| Box Office | $6,266,621 USD |
Credits
| | |
| --- | --- |
| Mario Kassar | executive producer |
| Renny Harlin | producer |
| Edgar J. Scherick | executive producer |
Cast
| | |
| --- | --- |
| Laura Dern | Rose |
| Robert Duvall | Daddy Hillyer |
| Diane Ladd | Mother |
| Lukas Haas | Buddy |
| John Heard | Willcox Hillyer (Buddy as an adult) |
| Kevin Conway | Dr. Martinson |
| Robert John Burke | Dave Wilkie (as Robert Burke) |
| Lisa Jakub | Doll |
| Evan Lockwood | Waski |
| Matthew Sutherland | Billy (as Matt Sutherland) |
| D. Anthony Pender | Foster |
| David E. Scarborough | Horton |
| Robin Dale Robertson | Young Salesman |
| General Fermon Judd Jr. | Shadrack |
| Richard K. Olsen | Chief of Police |
Synopsis / summary
Rose, is taken in by the Hillyer family to serve as a 1930s housemaid so that she can avoid falling into a life of prostitution.

Rose's appearence and personality is such that all men fall for her, and Rose knows it.

She can't help herself from getting into trouble with men. "Daddy" Hillier soon grows tired of Rose's rambling ways.
Updates
There are no updates available at this time, but please check back soon as content is continuously added to the website.
Follow online
Related news
Related press