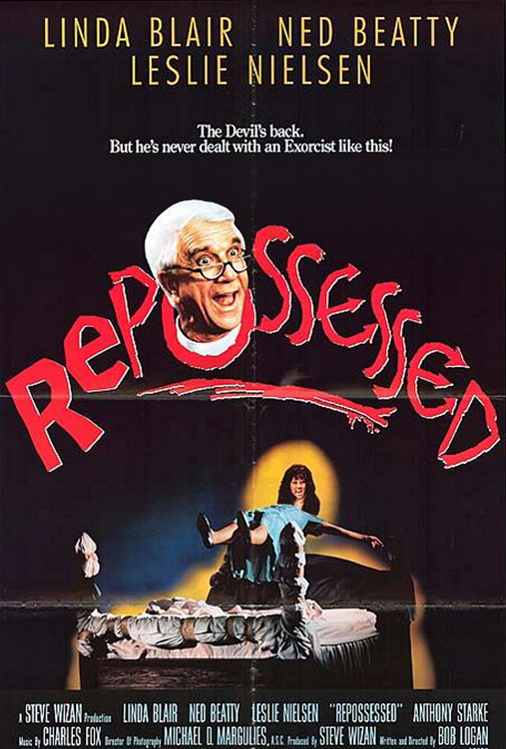 Production details
| | |
| --- | --- |
| Release date | 1990 |
| Director | Bob Logan |
| Genre | Comedy, Horror |
| Box Office | $1,382,960 USD |
Credits
| | |
| --- | --- |
| Mario Kassar | executive producer |
| Jean Higgins | co-producer |
| Steve Wizan | producer |
Cast
| | |
| --- | --- |
| Linda Blair | Nancy Aglet |
| Ned Beatty | Ernest Weller |
| Leslie Nielsen | Father Jebedaiah Mayii |
| Anthony Starke | Father Luke Brophy |
| Thom Sharp | Braydon Aglet (as Thom J. Sharp) |
| Lana Schwab | Fanny Ray Weller |
| Benj Thall | Ned Aglet |
| Dove Dellos | Frieda Aglet |
| Jacquelyn Masche | Nancy's Mother |
| Melissa Moore | Bimbo Student |
| Willie Garson | Nerd Student |
| Erna Gregory | Student |
| Richard Halpern | Student |
| Carol Shermer | Student |
| Kathy Topia | Student |
Synopsis / summary
It's been some time since Father Jebedaiah Mayii exorcised the devil from little Nancy Aglet, but now Nancy has grown up and has a family, the demon returns and repossesses Nancy.

With Father Mayii unwilling to help, Father Luke Brophy tries his best to help Nancy, even when TV's Ernest Weller plans to air the exorcism live on TV.
Updates
There are no updates available at this time, but please check back soon as content is continuously added to the website.
Follow online
Related news
Related press