Terminator 3: Rise of the MachinesWatch trailer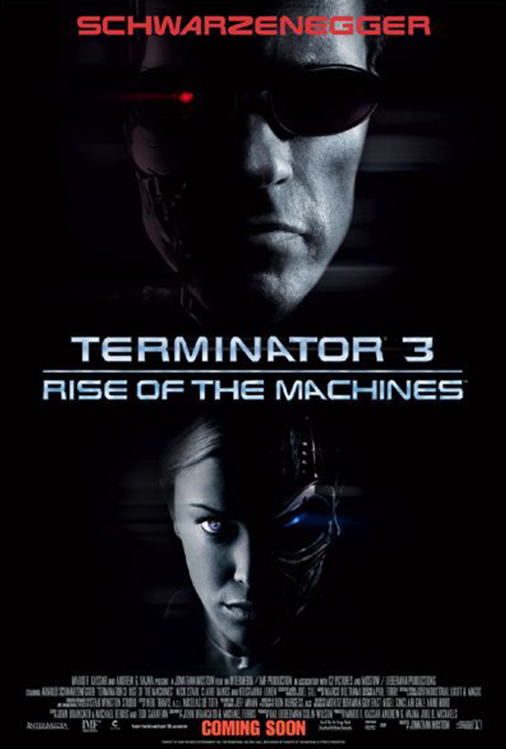 Production details
| | |
| --- | --- |
| Release date | 2003 |
| Director | Jonathan Mostow |
| Genre | Action, Sci-Fi, Thriller |
| Box Office | $433,371,112 USD |
Credits
| | |
| --- | --- |
| Mario Kassar | producer (as Mario F. Kassar) |
| Moritz Borman | executive producer |
| Matthias Deyle | producer: IMF |
| Guy East | executive producer |
| Oliver Hengst | line producer: IMF |
| Gale Anne Hurd | executive producer |
| Hal Lieberman | producer |
| Joel B. Michaels | producer |
| Aslan Nadery | executive producer: IMF |
| Volker Schauz | executive producer: IMF |
| Nigel Sinclair | executive producer |
| Andrew G. Vajna | producer |
| Colin Wilson | producer |
Cast
| | |
| --- | --- |
| Arnold Schwarzenegger | Terminator |
| Nick Stahl | John Connor |
| Claire Danes | Kate Brewster |
| Kristanna Loken | T-X |
| David Andrews | Robert Brewster |
| Mark Famiglietti | Scott Petersen |
| Earl Boen | Dr. Peter Silberman |
| Moira Harris | Betsy |
| Chopper Bernet | Chief Engineer |
| Christopher Lawford | Brewster's Aide (as Chris Lawford) |
| Carolyn Hennesy | Rich Woman |
| Jay Acovone | Cop, Westside Street |
| M.C. Gainey | Roadhouse Bouncer |
| Susan Merson | Roadhouse Clubgoer #1 |
| Elizabeth Morehead | Roadhouse Clubgoer #1 |
Synopsis / summary
Arnold Schwarzenegger is back as a time-traveling T-101 Terminator in this smash hit directed by Jonathan Mostow.

With dazzling effects, bravura thrills and a story the boldly spins into the unexpected, this is an event spectacle to see and see again.
Updates
There are no updates available at this time, but please check back soon as content is continuously added to the website.
Follow online
Related news
Related press