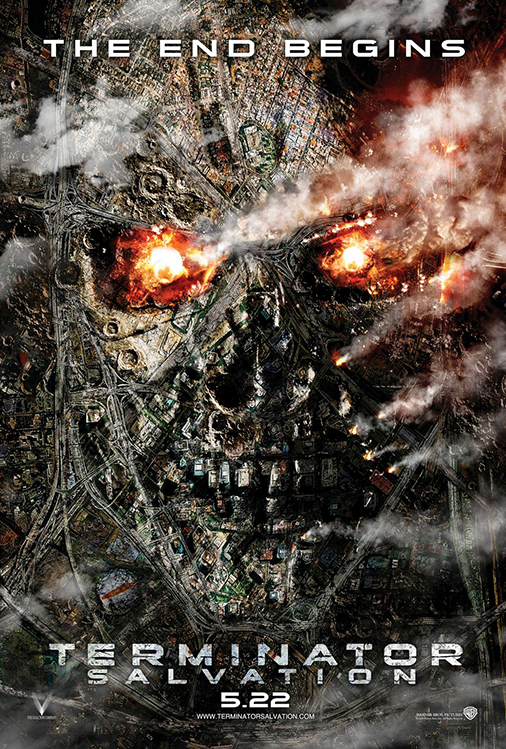 Production details
| | |
| --- | --- |
| Release date | 2009 |
| Director | McG |
| Genre | Action, Drama, Sci-Fi, Thriller |
| Box Office | $371,353,001 USD |
Credits
| | |
| --- | --- |
| Mario Kassar | executive producer (as Mario F. Kassar) |
| Jeanne Allgood | executive producer |
| Derek Anderson | producer |
| Moritz Borman | producer |
| Chantal Feghali | co-producer |
| Chantal Feghali | post-production producer |
| Bruce Franklin | associate producer |
| Steve Gaub | associate producer |
| Peter D. Graves | executive producer |
| Thomas Hayslip | line producer: second unit (as Tom Hayslip) |
| April A. Janow | associate producer (as April Janow) |
| Victor Kubicek | producer |
| Dan Lin | executive producer |
| Joel B. Michaels | executive producer |
| James Middleton | associate producer |
| Anjalika Mathur Nigam | associate producer |
| Randolph M. Paul | associate producer |
| Jeffrey Silver | producer |
| Andrew G. Vajna | executive producer |
| Don Zepfel | associate producer |
Cast
| | |
| --- | --- |
| Christian Bale | John Connor |
| Sam Worthington | Marcus Wright |
| Moon Bloodgood | Blair Williams |
| Helena Bonham Carter | Dr. Serena Kogan |
| Anton Yelchin | Kyle Reese |
| Jadagrace | Star (as Jadagrace Berry) |
| Bryce Dallas Howard | Kate Connor |
| Common | Barnes |
| Jane Alexander | Virginia |
| Michael Ironside | General Ashdown |
| Ivan G'Vera | General Losenko (as Ivan Gvera) |
| Chris Browning | Morrison |
| Dorian Nkono | David |
| Beth Bailey | Lisa |
| Victor J. Ho | Mark (as Victor Ho) |
Synopsis / summary
In 2018, Skynet has destroyed most of humanity and survivors have been hiding underground from an army of machines, known as "Terminators".

After a failed attack on a Skynet base, John Connor, the man fated to lead the Resistance is the sole survivor.

On the other hand, Marcus Wright, who only remembers being on death row, meets Kyle Reese and it is believed by Connor that he was sent from the future to kill him.

Now Marcus and John must unlikely join forces in order to save Kyle Reese and the humans captured by the machines.
Updates
There are no updates available at this time, but please check back soon as content is continuously added to the website.
Follow online
Related news
Related press