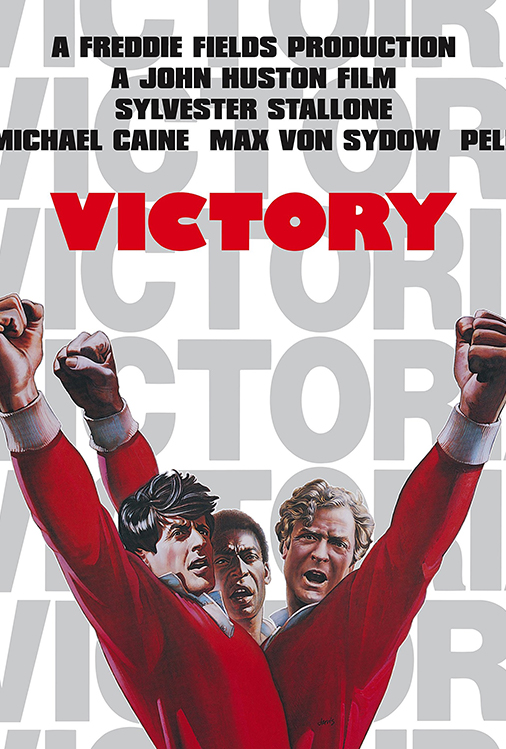 Production details
| | |
| --- | --- |
| Release date | 1981 |
| Director | John Huston |
| Genre | Action, Drama, Sport, War |
| Box Office | $10,853,418 USD |
Credits
| | |
| --- | --- |
| Mario Kassar | executive producer |
| Annie Fargue | associate producer |
| Freddie Fields | producer |
| Gordon McLendon | executive producer |
| Tom Stern | executive producer |
| Andrew G. Vajna | executive producer (as Andy Vajna) |
Cast
| | |
| --- | --- |
| Sylvester Stallone | Captain Robert Hatch - The Players: U.S.A. |
| Michael Caine | Capt. John Colby - The Players: England |
| Pelé | Cpl. Luis Fernandez - Allied Soccer Player - The Players: Brazil |
| Bobby Moore | Terry Brady - Allied Soccer Player - The Players: England |
| Osvaldo Ardiles | Carlos Rey - Allied Soccer Player - The Players: Argentina |
| Paul Van Himst | Michel Fileu - The Players: Belgium |
| Kazimierz Deyna | Paul Wolchek - The Players: Poland |
| Hallvar Thoresen | Gunnar Hilsson - The Players: Norway |
| Mike Summerbee | Sid Harmor - Allied Soccer Player - The Players: England |
| Co Prins | Pieter Van Beck - The Players: Holland |
| Russell Osman | Doug Clure - The Players: England |
| John Wark | Arthur Hayes - The Players: Scotland |
| Søren Lindsted | Erik Ball - Allied Soccer Player - The Players: Denmark (as Soren Linsted) |
| Kevin O'Callaghan | Tony Lewis - Allied Goalkeeper - The Players: Ireland (as Kevin O'Calloghan) |
| Max von Sydow | Major Karl Von Steiner - The Germans (as Max Von Sydow) |
Synopsis / summary
In World War II, a group of Nazi officers come up with a propaganda event in which an all star Nazi team will play a team composed of Allied Prisoners of War in a Soccer game.

The Prisoners agree, planning on using the game as a means of escape from the camp.
Updates
There are no updates available at this time, but please check back soon as content is continuously added to the website.
Follow online
Related news
Related press